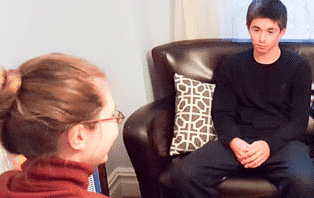 With suicide rates up 24% since 1999, treating depression early on is more important than ever. Specifically, teens suffering from depression often experience suicidal thoughts and behaviors.
It is not uncommon for teens and their parents to refuse medication as a viable option for treating depression. This is not surprising, as there have been warnings dating back to 2004 of suicides related to antidepressant use. In addition, medications to treat depression can have a wide range of unpleasant side effects and may take as long as six weeks to become effective. Finding the right drug or combination of drugs often involves trial and error since not all antidepressants work for everyone.
Fortunately, alternatives do exist. According to a study published by the American Academy of Pediatrics and performed by Kaiser Permanante in Oregon this past April, Cognitive Behavioral Therapy (CBT) is an effective treatment for depression in youth.
The study involved more than 200 teens in a 5 to 9 week program during which counselors employed CBT strategies to eliminate depressive thoughts and replace them with more positive thoughts and behaviors. Researchers followed the teens for two years and had them fill out surveys seven times during that period.
Recovery in the study was defined as having no or minimal symptoms for eight weeks or more. Symptoms included feelings of helplessness, loss of interest in friends and activities, changes in sleep or appetite, trouble concentrating and feelings of worthlessness or excessive guilt.
After six months, 70 percent of the teens in the CBT program had recovered, compared to 43 percent not in the program. And on average, teens in the program recovered 7 weeks faster than teens who did not participate. The gap in the two groups tightened after one year which can be explained by the short term nature of the treatment program.
According to Dr. Robert Reiner of Behavioral Associates, CBT results are durable with treatment adherence. While the youth in the study were only treated for 5 to 9 weeks, effective CBT therapy usually takes 6 months to a year.  This is not a huge commitment considering the potential risks and uncertainties associated with antidepressants and the open ended nature of more traditional forms of therapy.
When asked why CBT is more successful than other non-medicinal treatment approaches, Dr. Reiner said, "CBT not only changes the way people view themselves and their environments, but also the way they behave in that environment because the process actually rewires the brain."  By encouraging a personalized plan, with a focus on increased social interactions and physical activity, CBT has proven to be a powerful tool for countering the symptoms related to adolescent depression.
With as few as 30 percent of teens diagnosed with depression receiving specific care, CBT is a non-medicinal alternative that is certainly worth consideration.
Jennifer Reiner, Senior Editor has been writing for Behavioral Associates for more than 10 years.
June 10, 2016
TESTIMONIAL
I have been working on interpersonal problems all my adult life, but I feel that the Myndlift exercises are showing accelerated improvements.
I have been using an at-home program they offer called Myndlift along with CBT to strengthen my mindfulness practice. This program is a simpler version of neurofeedback that I can use daily from home. It is entertaining plus I like that I get to see my achievements, which encourages me to keep going.
I did my first training session this morning and absolutely love how simple and straightforward the layout is!
OPENING HOURS
| | |
| --- | --- |
| Week Days | 8:00 – 5:00 |
| Saturday | 9:00 – 5:00 |
| Sunday | 11:00 – 4:00 |
+44(0) 1865 339665
OFFICE LOCATION
OUR VALUES