May 16, 2013
By Sheila Feeney
NYers' hopes, dreams soar with $550 million Powerball jackpot lure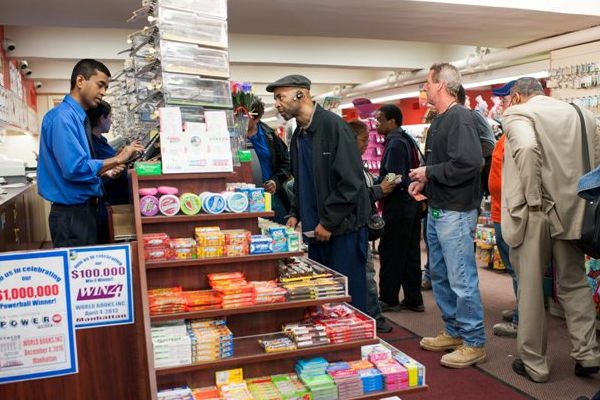 Why do we do it?
Like most Yankee fans, the psychologists believe A-Rod's problems are 100 percent mental.
We know the odds of any number of things — being crushed to death by a vending machine (1 in 112 million), becoming homeless (1 in 450) or being struck by lightning (1 in a million so) are far better than our odds of winning the Powerball jackpot (1 in 175 million).
Yet, once the jackpot swells more than $100 million, even the skeptical seem willing to surrender their dollars in the hope they can indeed become "that kind of rich."
With the Powerball jackpot soaring past $550 million Thursday — the third-largest prize of all time — the line at the Hudson News stand in the Port Authority Bus Terminal stretched to about 50 people during the morning rush hour. Many of the customers waiting to buy Powerball tickets were not regulars, but infrequent or first time players smitten by the mammoth pot of gold, observed Yunus Ali, an operations manager for the company. The popularity of Powerball is no mystery, said Ali: "People are frustrated. They need money. When people are frustrated, they try to get more money." Ali plays, too. "I feel there is a hope," he shrugged.
Almost $825 million worth of tickets have been sold in the 43 states participating in Powerball since the "roll up" of the jackpot that was a mere $40 million on April 3. About $71.8 million of those sales came from New York State.
"Marketing has a lot to do with" the popularity of Powerball, said Robert H. Reiner, the executive director of Behavioral Associates in Manhattan and an instructor in the psychiatry department of New York University Medical Center. While we often flatter ourselves that we are immune to being gulled, "advertising works," dissolving our rational resistance to ridiculously bad odds, Reiner said. Too, like sports or the weather, the dream of financial freedom bestowed by lady luck is a shared cultural touchstone that unites us all. "It becomes a social experience, like March Madness or football pools," he noted.
"You can't walk down the street without a sign jumping out at you about the jackpot!" observed Ralph Fierro, 46, who was buying $20 worth of Powerball and Mega Millions tickets in midtown. Fierro, a construction superintendent from Marlboro, N.J., is not a regular lottery player, but when jackpots swell to life-changing levels, he can't resist making a small wager on a possibly transcendent payoff. Lottery promotions "make you believe you can really win it: They even have these shows, like, "The Lottery Changed My Life," which fuels your fantasies of what life would be like if money were not a concern, explained Fierro. (Should he win, "I'd set my three sons with a nice business," he said with a grin.)
The bigger the jackpot, the more likely it is that hope will triumph over experience and wisdom. About $9.33 million worth of tickets were sold in New York State for the $270 million jackpot that went unclaimed on May 11. Sales almost doubled — to $17.5 million — for the $360 million jackpot that similarly pulled no winners Wednesday night.
Desperation comes into play, too. "The more you're down on your luck, the more you hope for a miracle," as Reiner explained. Americans' collective faith in government, safety nets, and the employer-employee social contract has eroded in the past decades, Reiner observed. With one-third of New Yorkers now living below or near the poverty level lots of people are hoping for lots of miracles.
Bradley Curry, 49, of Harlem, never played the lottery until a month ago — once — and then again this week. What changed? "I'm unemployed. I'm way needier!" said Curry, who left his job as a church administrator last August. "I'll probably play a couple more times," said Curry, hoping he'll be "lucky."
Then there are those who feel they have to play. Eladio Rojas, 55, a telephone technician from Parkchester, used to play the last four digits of his social security number faithfully on "Win Four" for years. "The day I stopped, the numbers came up!" he recounted incredulously. Had he continued, "I would have won $25,000!" He's been playing the same six numbers in Powerball because "I'm afraid not to play them: They day I don't, the numbers will come up."